On June 16, 1903, the Ford Motor Company was established. Henry Ford was the founder and his company would go on to great accomplishments.
At least one of those accomplishments will probably surprise you. Ford's Model T, which would number in the millions sold, required 100 board feet of wood to build. Ford was green way before any of us even knew what that meant. He despised waste, he lived "Reduce, reuse, and recycle."
All of that wood required to build his Model T generated literal mountains of sawdust at his lumber mills. He wanted a way to use the scrap wood and sawdust into a useful (and profitable) product.
While camping with friends in the backwoods of Michigan he spent far too much time collecting sufficient wood for a campfire, he came up with a "Better Idea". The idea was brilliant! He envisioned to new way to have a camping fire. It began with lumping a fistful of sawdust and cornstarch with a bit of tar to form a briquette.
He took this lump of a strange mixture and after charring it, a new BBQ staple was created. Next, he built a charcoal briquette factory adjacent to his lumber mill. The plant's waste became the base for his new product.
To introduce this new invention to the public Ford included bonus bag of Ford Charcoal Briquettes. This new invention made it possible for new Model T owners to enjoy a visit to the woods and quickly build a campfire at their camp site without searching for wood.
The genius of Henry Ford not only created the modern automobile assembly line but also fueled the modern weekend backyard grilling tradition. Today, we can easily BBQ in our own yard without ever touching a wood log.
In 1951, they sold the Ford Charcoal Briquette Company. The new company was named after Ford's real estate partner who helped him find the land to supply wood for building the early Ford automobiles: E.J. Kingsford.
Kingsford Charcoal is the largest producer of charcoal briquettes in the world. Since 1920, Kingsford® Original Charcoal has been the gold standard of grilling. Made in the USA* with 100% natural ingredients, including North American wood, Kingsford® Original gives BBQ lovers the smoky wood-fired flavor they crave. 
Kingsford® Original Charcoal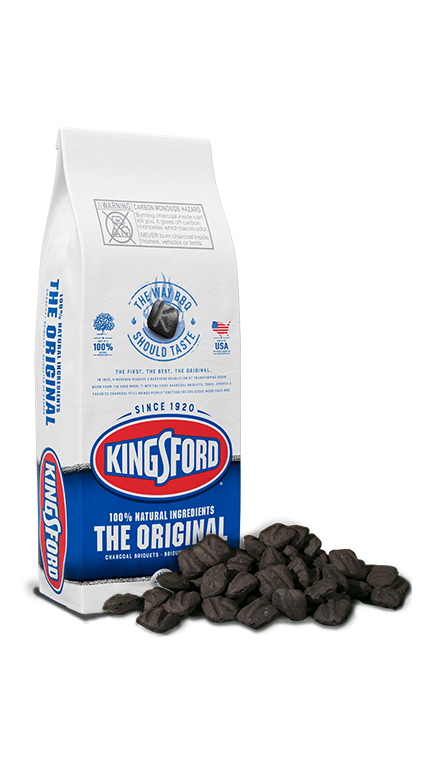 Kingsford® Products // Kingsford® Original Charcoal4.7(3409)4.7 out of 5 stars. 3409 reviewsWrite a Review